The RO DBT Textbook and Skills Manual
Radically open dialectical behavior therapy (RO DBT) is a truly innovative treatment, developed through the translation of neuroscience into clinical practice, integrating various influences from dialectical behavior therapy, mindfulness-based approaches, emotion, personality and developmental theory, evolutionary theory and Malamati Sufism.

Dr Mima Simic MD MRCPsyc. Joint Head Child and Adolescent Eating Disorder Service, Consultant Child and Adolescent Psychiatrist, The Maudsley Hospital, London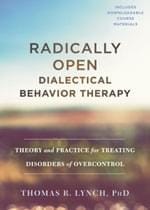 Radically Open Terapia comportamentale dialettica per i disturbi del sovracontrollo
by Dr Thomas Lynch
Il manuale delle competenze per la terapia comportamentale dialettica radicalmente aperta
Ordina adesso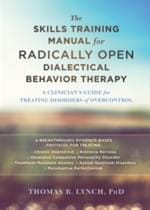 Il manuale delle competenze per la terapia comportamentale dialettica radicalmente aperta
by Dr Thomas Lynch
Il manuale di formazione sessione per sessione per la terapia comportamentale dialettica radicalmente aperta
Ordina adesso
Based on over twenty years of research, radically open dialectical behavior therapy (RO-DBT) is a breakthrough, transdiagnostic approach for helping people who suffer from extremely difficult-to-treat emotional overcontrol (OC) disorders, such as anorexia nervosa, treatment-resistant depression, and obsessive-compulsive personality disorder (OCPD).
While traditional dialectical behavioral therapy (DBT) has been developed to treat people with emotion dysregulation, there have been few resources available for treating those with overcontrol disorders.
OC has been linked to social isolation, aloof and distant relationships, cognitive rigidity, risk aversion, a strong need for structure, inhibited emotional expression, and hyper-perfectionism. And yet—perhaps due to the high value our society places on the capacity to delay gratification and inhibit public displays of destructive emotions and impulses—problems linked with OC have received little attention or been misunderstood. Indeed, people with OC are often considered highly successful by others, even as they suffer silently and alone.
RO-DBT is based on the premise that psychological well-being involves the confluence of three factors: receptivity, flexibility, and social-connectedness.
RO-DBT addresses each of these important factors, and is the first treatment in the world to prioritize social-signaling as the primary mechanism of change based on a transdiagnostic, neuroregulatory model linking the communicative function of human emotions to the establishment of social connectedness and well-being. As such, RO-DBT is an invaluable resource for treating an array of disorders that center around overcontrol and a lack of social connectedness—such as anorexia nervosa, chronic depression, treatment-resistant anxiety disorders, autism spectrum disorders, as well as personality disorders such as avoidant, dependent, obsessive-compulsive, and paranoid personality disorder.
Written for mental health professionals, professors, or simply those interested in behavioral health, this seminal book—along with its companion, Radically-Open Dialectical Behavior Therapy Skills Training Manual (available separately)—provides everything you need to understand and implement this exciting new treatment in individual therapy—including theory, history, research, ongoing studies, clinical examples, and future directions.
What's inside:
A comprehensive overview of the neurobiosocial theory behind RO-DBT
A complete framework for implementing RO-DBT in individual therapy
How to assess overcontrol
How to maximize client engagement
How to build a strong therapeutic alliance and address alliance ruptures
How social signaling works and how to put it to work for you
Guidelines for team consultation
How to use radically openness and self-enquiry to improve social signaling
RO DBT skills manual
The skills manual includes:
Session by session guidelines for implementing skills classes
Downloadable client worksheets
Guidelines for how to run skills classes
How to handle common obstacles in skills classes
Using heat on and heat off strategies in class
Example skills class topics include:
Using social signaling to live by your values
Interpersonal effectiveness: Kindness first and foremost
Enhancing social connectedness
How to activate social safety
Learning to Forgive
Envy, resentment, bitterness, and revenge
Learning from corrective feedback
Mindfulness: Practicing Self-Enquiry
These books are for mental health professionals who:
are interested in being more effective with clients suffering from disorders of overcontrol, such as anorexia nervosa, chronic depression, treatment-resistant anxiety disorders, and autism spectrum disorders
are interested in staying up-to-date with cutting edge approaches to personality disorders, such as avoidant, dependent, obsessive-compulsive, and paranoid personality disorder
themselves might be overcontrolled and want to understand how their own behavior might affect their effectiveness with clients, as well as what to do about it
are already trained in dialectical behavior therapy and want to understand how they build on their existing knowledge with a whole new population of clients
want to stay up-to-date about the newest forms of cognitive-behavioral therapy
are interested in transdiagnostic models of psychotherapy
Download a Free Sample Chapter
Endorsements
A new and comprehensive statement from one of the more creative minds in evidence-based clinical intervention today, Radically Open DBT brings together a contemporary focus on a limited set of key transdiagnostic processes, with new assessment and interventions techniques for moving them in a positive direction. Emphasizing flexibility, openness, connection, and attention to social signaling, RO DBT specifies the details that can matter, from how you arrange your consulting room furniture to how non-verbal cues signal social information. RO DBT seems destined to make an impact on evidence-based care in many corners of clinical work.

Highly recommended.

Steven C. Hayes. Foundation Professor of Psychology, University of Nevada, Reno
Radically open dialectical behavior therapy (RO DBT) is a truly innovative treatment, developed through the translation of neuroscience into clinical practice, integrating various influences from dialectical behavior therapy, mindfulness-based approaches, emotion, personality and developmental theory, evolutionary theory and Malamati Sufism. RO DBT is applicable to a spectrum of disorders characterized by excessive inhibitory control or overcontrol (OC). This is the first treatment that directly targets social signalling and non-verbal aspect of communication not only in clients but also in therapists. RO DBT concepts postulate that in disorders of overcontrol, deficits in prosocial signaling are the core source of OC clients' loneliness. Treatment of overcontrol can be potentially beneficial for clients, both adolescent and adult, with refractory depression or anorexia nervosa. This book on The theory and practice of RO DBT together with the The Skills Training Manual, that describes the content of skills classes, are excellent guides for clinicians who want to embark in delivering novel transdiagnostic treatments based on science and clinical practice.

Dr Mima Simic MD MRCPsych. Joint Head Child and Adolescent Eating Disorder Service, Consultant Child and Adolescent Psychiatrist, The Maudsley Hospital, London
RO-DBT offers an intriguing reconceptualization of traditional views of internalizing and externalizing disorders and provides the clinician with valuable new tools to address a number of problems that have been particularly resistant to standard CBT approaches. I will definitely include RO-DBT theory and techniques in my graduate level intervention class. I know beginning clinicians in particular will be grateful to have a systematic way to approach these slow to warm up clients who are difficult to establish rapport with. Their early termination from therapy and failure to respond to traditional approaches often leaves clinicians befuddled and critical of their own skills. RO-DBT provides a compassionate way for clinicians to view this type of resistant client as well as to work on some areas that are likely to benefit them as well. A very welcome addition to any clinician's toolbox.

Linda Craighead Ph.D. Professor of Psychology & Director of Clinical Training, Emory University
The Radically Open DBT Workbook for Eating Disorders: From Overcontrol and Loneliness to Recovery and Connection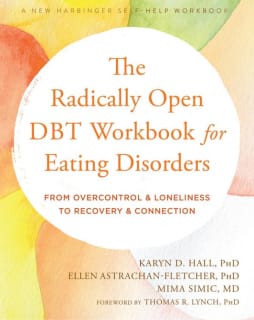 A groundbreaking workbook to help you develop healthy coping strategies, build a solid support network, and stay on the path to recovery.
If you've been in therapy for an eating disorder, such as anorexia nervosa or bulimia, your past treatment may have focused on helping you control your emotions and contain your behaviors. However, research now shows that many people with eating disorders actually suffer from emotional overcontrol. Based on more than twenty years of research, this breakthrough workbook offers skills based in radically open dialectical behavior therapy (RO DBT), a proven-effective, transdiagnostic approach for treating disorders of overcontrol (OC).
With this compassionate workbook, you'll learn how to move beyond the unhealthy coping strategies that keep you feeling isolated and lonely, find tips for building a solid support network and enriching social connections, and develop your own personalized plan for staying on the path to recovery. You'll also find assessments to help you determine the root cause of your OC disorder, exercises for increasing social engagement, and skills for improving social flexibility, trust, and intimacy.
Having an eating disorder can make you feel like you're alone in the world. Even if you're in recovery, you may have days when feelings of isolation are too much, and you may feel tempted to fall back into unhealthy patterns of eating or restrictive eating. This workbook will help you build your own "treatment tribe", a group of people that help lift you up and support you as you find your way to a full recovery and a rich, meaningful life.
Books in Other Languages
Italian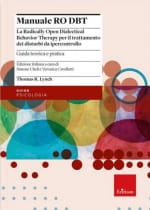 Manuali RO DBT
by Dr Thomas Lynch
Ordina adesso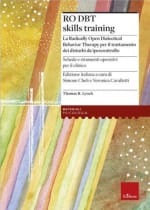 Formazione sulle abilità RO DBT
by Dr Thomas Lynch
Ordina adesso
Swedish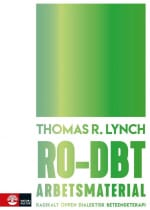 RO-DBT Materiale di lavoro
by Dr Thomas Lynch
Ordina adesso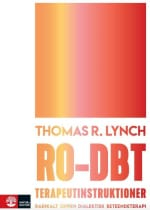 Istruzioni per il terapeuta RO-DBT
by Dr Thomas Lynch
Ordina adesso