How long does RO DBT Training take?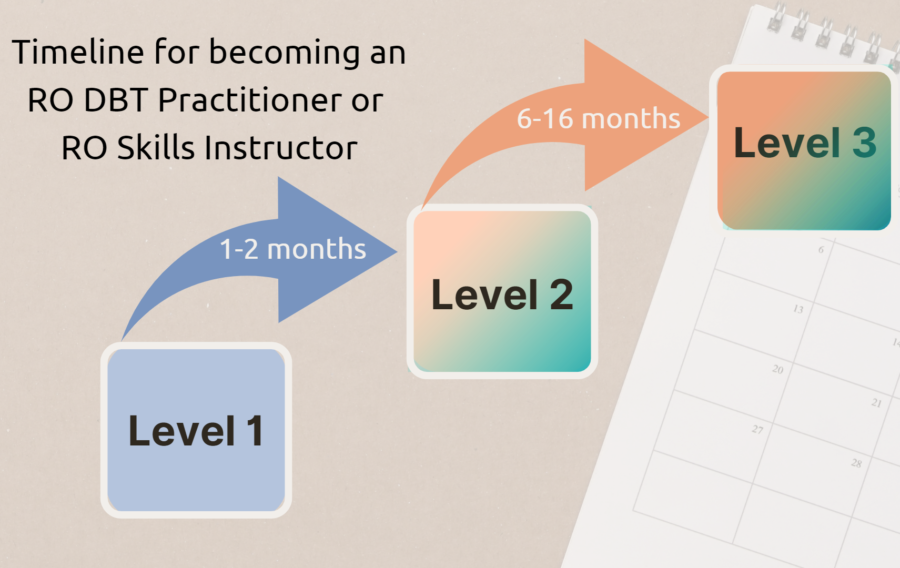 We regularly get asked this question so we thought we would write a blog about it. The short answer is: 'however long you make it' but that doesn't seem very helpful, so here are some guidelines and recommendations.
Let's start by summarizing the training program:
Whether you do the RO DBT Practitioner Pathway or RO Skills Instructor Pathway, Levels 1 and 2 consist of pre-recorded webinars that you can watch whenever it suits you, and Level 3 is a workshop.
Level 1: 6 On-demand webinars teaching the foundations of RO DBT.
Level 2: 30 On-demand webinars (17 for skills instructors) teaching how to deliver the full RO DBT model effectively.
Level 3: 3 days (2 for skills instructors) in-person or live online workshop teaching RO DBT protocols and principles.
For more details about each pathway, see https://www.radicallyopen.net/our-ro-dbt-therapist-training-pathways.html
How long will it take me to go through Levels 1 and 2?
We recommend that you give yourself at least 1 week to watch each webinar and do the recommended homework exercises. You're all doing the homework, right? 😉
If you follow this guideline, this means Level 1 will take you 6 weeks and Level 2 will take you 30 or 17 weeks depending on the pathway you are doing. So, it will take about 9 months for RO DBT Practitioners and 6 months for RO Skills Instructors to complete Levels 1 and 2.
We strongly recommend you take the time to learn and apply the treatment: it is a complex treatment for complex disorders. Be kind to yourself, don't rush it!
When can I start seeing clients for RO DBT?
Assuming you have read the RO DBT Textbook and Skills Training Manual, we recommend you start seeing clients WHILE you are doing Level 2, around or just after Level 2 part 06 'Managing Skills Training Classes in Radically Open Dialectical Behavior Therapy'. If you follow the 'webinar-a-week' schedule, this will be 4 to 5 months after you have started Level 1.
By this point you will know how to do the Orientation and Commitment phase and manage Skills Training Classes, both of which we strongly recommended you implement in your service, regardless of whether you offer individual treatment plus skills training classes, or skills training classes only. Orientation and Commitment is key in keeping drop-out rates low. But that's a topic for another blog.
In the meantime, continue with the course and follow the lesson plan. We believe you will learn the treatment more efficiently by putting your learning into practice as soon as possible.
At what point should I attend the Level 3 workshop?
While the entry requirement for Level 3 is to have completed Levels 1 and 2, this doesn't mean you should do Level 3 as quickly as possible after completing Level 2.
We recommend you attend a Level 3 workshop once you have implemented RO DBT into your treatment sessions and skills classes for several months. That way you will come to the workshop with your experience of what is going well and what needs improving, and you will get the most out of this training with our experienced RO Trainers.
We have summarized the estimated timelines based on our guidelines in the graph below: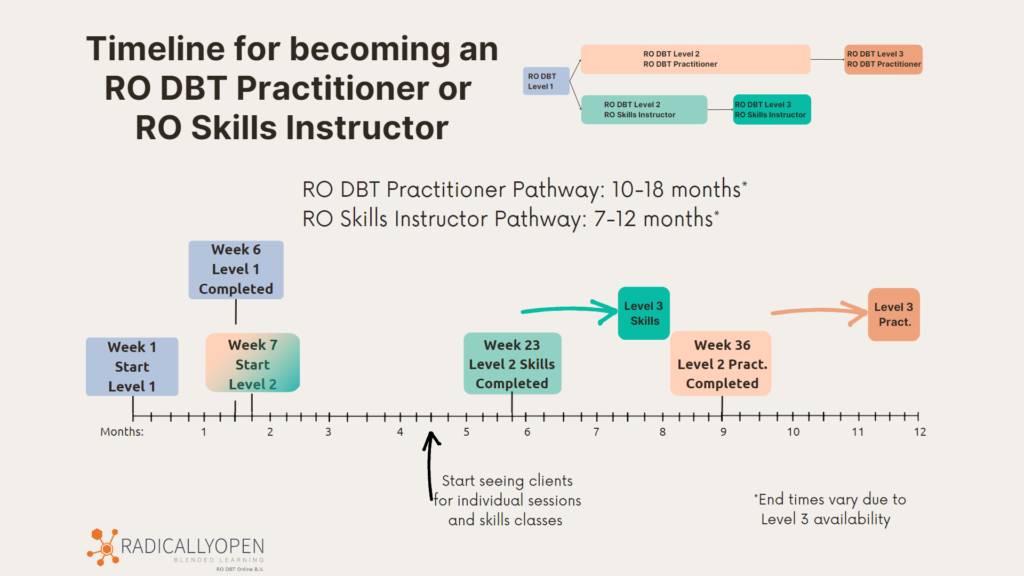 As you can see, the estimated completion duration for the RO DBT Practitioner Pathway is between 10 and 18 months, and for the RO Skills Instructor Pathway between 7 and 12 months. The total duration varies due to Level 3 workshop availability.
We hope this blog has been helpful in planning your training and understanding what to expect. We have summarized our guidelines and recommendations based on our experience to date, but you can shorten or lengthen the duration of your training however this suits you; we all learn differently.