Moving to the country, going to meet a lot of people…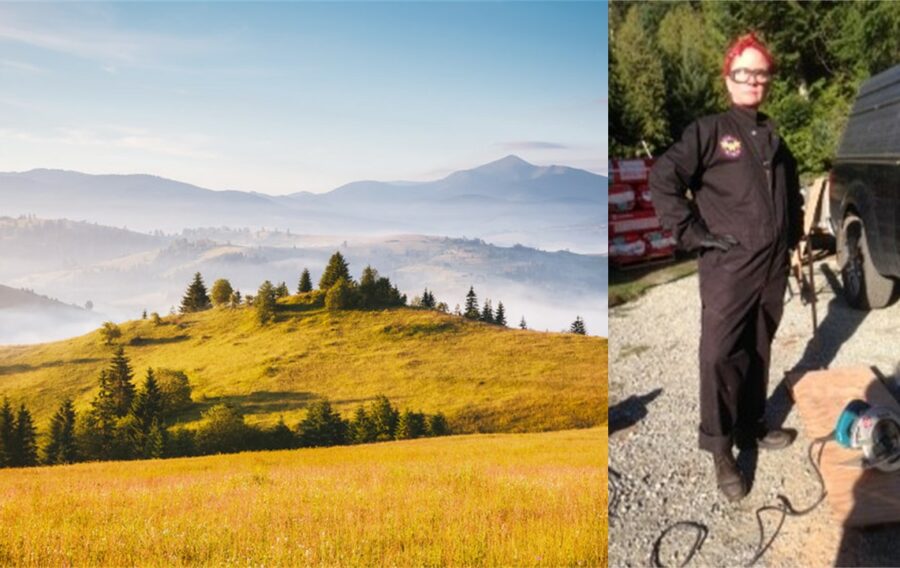 I have lived in some pretty small and/or remote places in my adult life. I did a couple of seasons at Lake Agnes Tea House in Lake Louise, Alberta, hauling water from a pristine glacier fed lake, having my groceries delivered via horseback, and navigating evenings with candles and headlamps. One year, I was tasked with closing the place down for the winter season and it was just me and the resident Porcupine named Buddha, cleaning the knots in the logs with a tooth brush. That was not my (or Buddha's) choice, by the way, and for the record it was a fresh tooth brush. Looking back, I suspect the owner might have leaned toward OC with her closing instructions (wink-wink!) and she also personally hiked 5km uphill carrying a new front door on her back, so…Cynthia, if you are reading this, I was always a little in awe of you! I also lived in Field, British Columbia, just down the highway from Lake Louise. I believe the population at the time was 300 but I am certain they counted the dogs in the census. The general store was the village cafe, grocery and liquor store and gossip hub. In that little valley, winters were long, with the sun dipping below the mountains early afternoon and residents contending with the "YoHo Blows" which were essentially bitter cold winds careening west off the YoHo glacier that required you wearing ski goggles to navigate your way to the store. And, yes, believe it or not, all these experiences revealed to me that remote living was where it was at. There was something about the solitude and expansiveness of time that was very attractive to me. I could write, drink wine, chop wood for the fire, (although I recommend doing the latter before the former) cuddle up in my freezing cold abodes and have minimal responsibility to others. As a RO DBT therapist, I hear similar yearnings from my clients – "I just want to live in the middle of nowhere" or "I just need way less social stimuli" or declarations of "Honestly, I am fine being alone. It's just easier that way."
Except here is the thing. It is hard to live remote without other people. Or, more specifically, hard to live alone without being dependent on others. If we fast forward to today, I am in the most fortunate position to have secured a piece of land. Despite my youthful assertions of living the life of Walden, I did end up in a city for school, career and family for many years. I would often say to people: "Oh, Victoria (that is my city, BTW, not my partner!) is just temporary" but was saying that 2 years, 5 years, *gasp* 25 years later! So, my partner and I, after years of discussion, bought our dream property – rural and remote. What better way to be self sufficient? Uphold our values of having as many animals as one can support? Build our space in a manner that adheres to our environmental principles! Grow our own food!
Landing rural does uphold these dreams, but let me tell you, not without help. In our first visits to our new land, conversations kinda went like this:
Deanne: That area would be great with some gravel.
Nicole: Who do we get that from?
Or:
Nicole: How are we going to move those timbers?
Deanne: Who do we know with a back hoe?
Or:
Deanne: Do you think someone at the hardware store can help?
Nicole: Worth a try! [and for the record, Colleen taught us everything ever about water tank systems]
The title of this blog is a play on The Presidents of the United States song "Peaches." In the original lyrics, they sing, "moving to the country, gonna to eat a lot of peaches." In wandering our land, I came across a beat-up acoustic guitar, so now I have the habit of picking up this battered old thing and singing variations of the title: "moving to the country, going to meet some wild creatures" or "moving the country, going to freeze my skinny ass off," or my favourite: "moving to the country, gonna need to call the neighbours." Really, the renditions might be endless! Perhaps a K-Tel record in the making?
Anyway, I won't bore you with the all the conversations (or lyrics), but suffice to say that every conversation about how we are going to be "self sufficient" involves others (including each other!) This might include people's expertise of the land, their access to equipment, their time, their generosity, their bylaws, their supply chain issues, and above all, their relationship to me and my partner. So, moving rural has actually highlighted that being open and integral in relationships – with merchants, neighbours and other folks on this tiny postal code is the bedrock of being "self sustained." And when I look back to my early days of Lake Louise and Field, technically I was never alone then either, I just fooled myself into believing I was.
What does this mean for RO DBT practice? Well, Dr. Lynch reminds us that dependency is not a dirty word, despite that many of those of us who lean to OC might assume so. As we say, we are better together. But damn, it is hard to admit when you don't know something and need some help! (Or maybe that is me, tee-hee). Anyway, I think this adventure will be one of employing lots of flexible mind, humility, healthy self-doubt and gratitude. So even if I think this dream came "too late" in my life time, it came at the perfect time for the RO DBT skills I have to apply to it!
---