The RO Institute is proud to announce our Trainer and Supervisor pathway: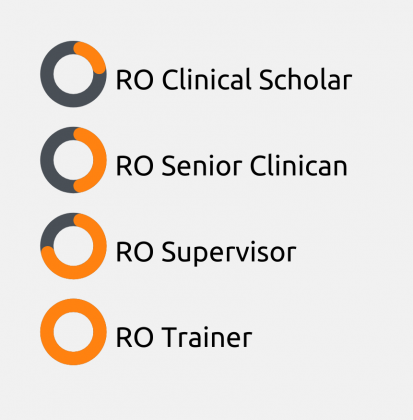 RO Clinical Scholar
In line with our commitment to encourage therapists to deepen their knowledge of RO DBT and advance their career pathways by becoming RO Institute-certified senior clinicians in RO DBT, the RO Scholarship program, funded by the RO Institute, offers therapists supplemental teaching and supervision in the principles and practices of the therapy. Therapists accepted onto the program will be granted the title of RO Clinical Scholar and will receive an accredited certificate and email logo.
The RO Scholarship is a 2-year program that aims to teach clinicians the skills and knowledge needed to achieve RO Senior Clinician status, and eventually become 'expert' team consult leaders, supervisors and trainers.
What you will get:
The program consists of 20 monthly online meetings over a two year time period (with no meetings in August and December) that vary in topic and format, such as expert-led team consult meetings, didactic teaching about the theory and protocols in RO DBT, and train the trainer sessions in which you will practice presenting RO training materials. All meetings are led by RO-certified trainers and supervisors.
Those who have completed their RO DBT training via our former intensive training format will get free access to the RO DBT Blended Learning program and are expected to complete the entire program.
You will learn:
How to implement RO DBT more effectively in your own practice
How to lead a RO DBT expert-led team consult meeting
How to assess for adherence using the RO DBT manual
How to give effective and engaging RO DBT presentations
Requirements:
To qualify for a RO scholarship, the candidate must fulfil the following conditions:
Have completed Levels 1-3 of the Blended Learning program or the full 10 days (parts 1 and 2) of an intensive training.
Have completed a minimum of 10 supervisory sessions, with a minimum of 5 sessions occurring in the 6 months prior to an application to join the scholar program. This must consist of one to one micro-analytic supervision of taped sessions with an accredited RO supervisor. You can find a list of approved RO Supervisors here.
Be recommended as a suitable candidate by their supervisor, who will provide a letter of recommendation outlining the quality of work and personal readiness to attend the RO scholarship program, as well as confirmation that the supervision requirements have been met (see point 2 above).
Have a regular self-enquiry practice and keep a self-enquiry journal.
Have completed the full therapy (30 sessions plus skills class) with at least 3 clients (although we recognize that environmental constraints means this is not always possible).
Submit a personal letter of intent outlining their interest in the supervisor and trainer pathway.
Provide a written case study on one client (using the guidelines on the application form) which should be submitted to your supervisor. It is recommended that the candidate discusses the case study with the supervisor for approval before beginning the assignment, to ensure it is a good training case. This will also help the scholarship committee take into account individual/environmental/cultural differences which may affect whether full delivery of the treatment is possible and allow flexibility when individuals do not meet the full criteria for scholarship but have other unique or promising features that might further the RO DBT mission, e.g. academic research.
Provide a taped session with a client, accompanied by a transcript outlining where the session is adherent (and why) and where it is not adherent - and why.
There is limited availability for this program, with a maximum of 10-12 places per year.
The scholar program is a 2-year closed format with the applications window open every 2 years in the fall - 2023, 2025, 2027, 2029, etc. For more details, visit the RO Resources course in your 'My Radically Open' account and go to 'The RO Clinical Scholar Program'.
Scholarship awards will be decided by a committee made up of senior clinicians and the senior management team of the Radically Open Institute.
For a list of current and previous RO Scholar Awardees, click here.
RO Senior Clinician
Senior Clinicians are invited to regular online supervision meetings during which one member volunteers a tape that is micro-analyzed by Dr. Thomas Lynch or another Senior RO Supervisor. Senior Clinicians are also invited to bi-annual retreats where as a group, you will work towards developing your supervision and training skills.
Senior Clinicians will be granted permission to provide introductory training once they have shown to possess the necessary skills.
Progression to join the RO Senior Clinician team
RO Clinical Scholars can apply for membership of the senior clinician team once the following conditions are met:
Be recommended by their supervisor: you must provide a letter of recommendation from your supervisor.
Have completed the full Blended Learning program prior to becoming an RO Scholar or completed their RO DBT training via our former intensive training format.
Be seeing 5 clients (this can include the 3 clients seen to qualify for the scholar scheme).
Be teaching a skills class.
Have a self-enquiry buddy and be keeping a self-enquiry journal.
Be receiving ongoing supervision e.g. monthly
Be assessed as adherent on 3 tapes
Submit a personal letter of intent
Supervisor
Becoming an RO Institute-certified supervisor requires that the senior clinician provides adherent and competent RO DBT. You must also be able to demonstrate your supervisory skills to a high standard, giving supervision to and receiving feedback from colleagues at a similar level of competence and demonstrate your skills to Dr Lynch on a live therapy session. You will have the ability to detect areas of improvement for the therapist you are supervising as well as providing feedback in a manner that reflects RO style and principles.
As an RO supervisor you will also demonstrate such qualities as clear and direct communication, knowing how to effectively tease clients, have the capacity to provide behaviorally observable critical and positive feedback with kindness, have the capacity to hold multiple constructs in mind whilst still remaining attentive to what is happening in the moment and be able to give feedback and address in-session relevant behaviors by both therapist and client.
Once you achieve Supervisor status, you will continue to be part of the Senior Clinician group but will also become part of the Supervisors group, in which you continue to further develop your skills, learn from, as well as teach others.
Senior Trainer
RO Institute-certified Senior Trainers generally have multiple years of experience in RO DBT as well as Senior Clinician and Supervisor status. To become a senior trainer you must have good supervisory skills, extensive knowledge of RO DBT, and possess several additional qualities that are needed to be a good trainer, for example openness, playfulness, effort and commitment, ability to reveal weakness, awareness of one's own social signaling style and ability to hold an audience.